On August 24, 1818, the Organization for Science and Education "Meeting Vietnam" (Rencontres du Vietnam) held the Vallet Scholarship presentstion Ceremony for the excellent students and postgraduates in the North, 2018 . The ceremony took place at Thai Hoc building – historical landmark Van Mieu-Quoc Tu Giam.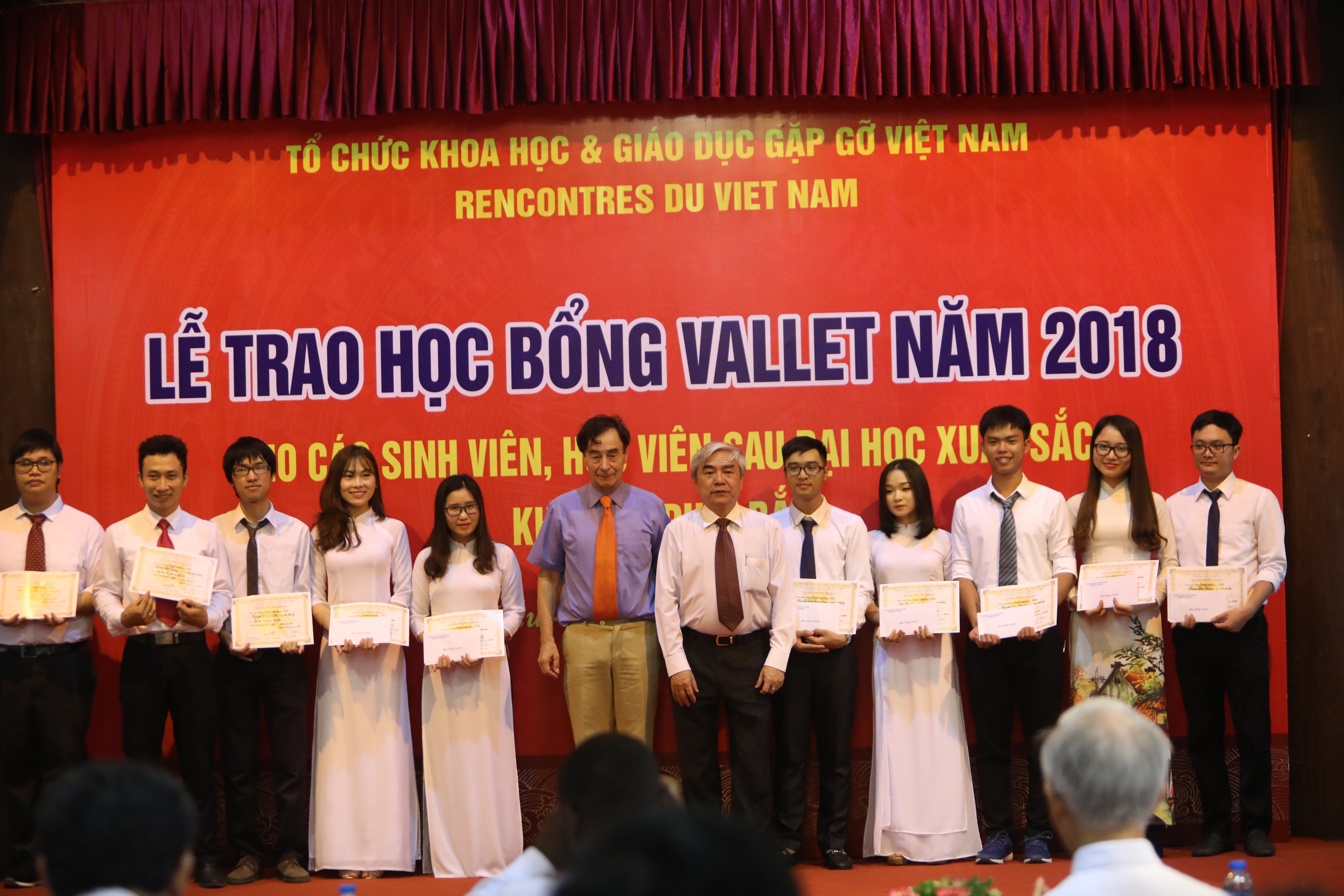 Presenting scholarships to excellent student and postgraduates
Rencontres du Vietnam, founded by Prof. Tran Thanh Van, has been offering scholarships to research students since 1994. By 2000, Professor Odon Vallet (French) has been working in partnership with the Vietnamese Association for the Promotion of Young Talents in Vietnam. Since 2001, 31,000 Vallet Scholarships have been awarded. The number and value of scholarships have increased significantly over the years. By 2018, there will be 2,250 scholarships worth VND23 billion. Apart from the excellent students in the urban areas, many poor students in the remote areas in the Mekong Delta and in the mountainous area of Viet Bac also received the Vallet Scholarship . At Van Mieu-Quoc Tu Giam, the Vallet Scholarship Fund awarded 130 scholarships to students and postgraduates in the North. Honoring and congratulating the outstanding students and postgraduates, at the Vallet Scholarship Ceremony, Prof. Tran Anh Van recalled the young generation's advice of Uncle Ho on the opening day of the first school after the August Revolution: "Your home is expecting you a lot. Whether the Vietnam will become prosperous or not, the Vietnamese people can walk to the glory tower to meet the people in five continents, it will be thanks to a part in their academic work"
This is the 20th year the Vallet Scholarships has been awarded to young talents throughout the nation. In 2018, the scholarship fund was held again at Van Mieu - Quoc Tu Giam - the first university in Vietnam under the monarchical time, so the meaning of the fund The scholarship has been multiplied, which honors the tradition of fondness for learning, the tradition of "respect for teachers" and in particular, this place honors talented people of Vietnam.
Chuong Van