"THE DEEP TRADITIONAL CULTURE AND DEVELOPMENT OF VIETNAM" SEMINAR
The Special National landmark Van Mieu – Quoc Tu Giam, cooperated with Vietnam Civilization foundation, organized "the deep traditional culture and development of Vietnam" seminar at Thai Hoc courtyard of Van Mieu – Quoc Tu Giam.
The speeches focused on bringing out the tittle "The deep traditional culture and development of Vietnam". The wide meaning and the importance of civilization, inheritance and presevation of good traditional quintessence of forefather. That was led to build and develop the civiliztion of Vietnam in accord with the more modern development of a nation.
(Ảnh: Ban chủ tọa điều hành Tọa đàm)
According to the history, the deep traditional culture was concerned by many Vietnamese researchers of culture. The inscription on stele in 1463: " The Confucian scholars whose names are inscribed on this stele must act in accordance with the credit given to them. They must perfect themselves according to the example set by Van Hien". In 18th centeries, the savant Le Quy Don affirmed that Vietnamese generation have to preserve and devolop deep traditional culture of the nation. In 19th centuries, the historian Phan Huy Chu wrote:"The deep traditional culture was a base to establish and bring up the values of tradition and cultural character and Vietnamese people, helped Vietnamese people break out of hardship in history". Preserving and developing the deep traditional culture of Vietnam were our responsibity to nation and generation in the future.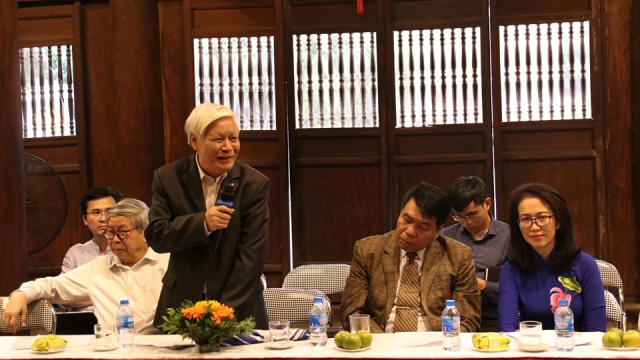 (Ảnh: TS Nguyễn Viết Chức - Viện trưởng Viện Văn hóa Thăng Long phát biểu tại Tọa đàm)
PhD. Nguyen Viet Chuc – The Director of Thang Long institute of culture shared that: "No deep traditional culture, no sustainale development for a nation. How to preserve and develop culture of Vietnam for a nation to walk abreast with other developing coutries"
Translator: BBP