THE CONTEST "SKETCHES OF THE VĂN MIẾU-QUỐC TỬ GIÁM"CONTRIBUTES TO PRESERVING TRADITIONAL CULTURAL VALUES
The Contest "Sketches of The Văn Miếu-Quốc Tử Giám"was officially launched from December 3, 2020. This is also a good opportunity for students who are creative and have a passion for architectural works and artifacts at the Văn Miếu – Quốc Tử Giám.
The works will help visitors understand the landmark more vividly and in a more multidimensional way, as well as inspire visitors with the beauty of Văn Miếu – Quốc Tử Giám. It helps to spread the passion for painting as well as the love for cultural heritage to the students, which contributes to preserving the traditional cultural values of Việt Nam.
After the launching day, the students came to the Landmark to draw, and some of them finished their works in the first week.
Phan Anh Tuan, a student from Hanoi University of Civil Engineering said: "It took me about 3 hours to finish my work. I draw this work because I want to convey to everyone the beauty of Khuê Văn Các as well as Văn Miếu – Quốc Tử Giám is really sophisticated, sharp and meticulous through each tile, the parallel sentances on it, the roof angle. And I found that the meaning of the contest is what I think about when I painted this work. I want visitors and young people to preserve the beauty and values of the architectural works of Văn Miếu – Quốc Tử Giám left by our ancestors.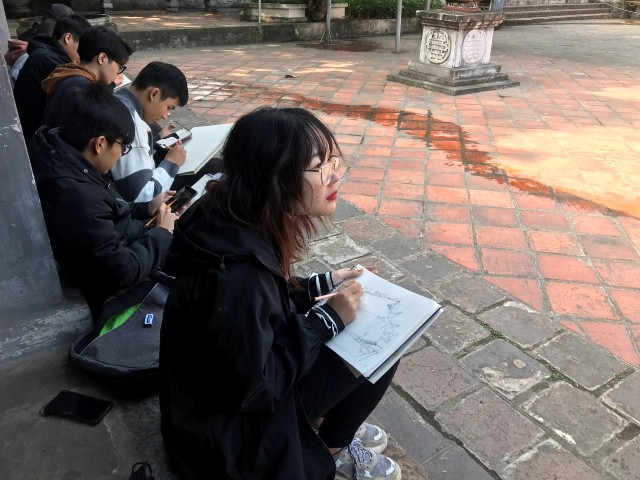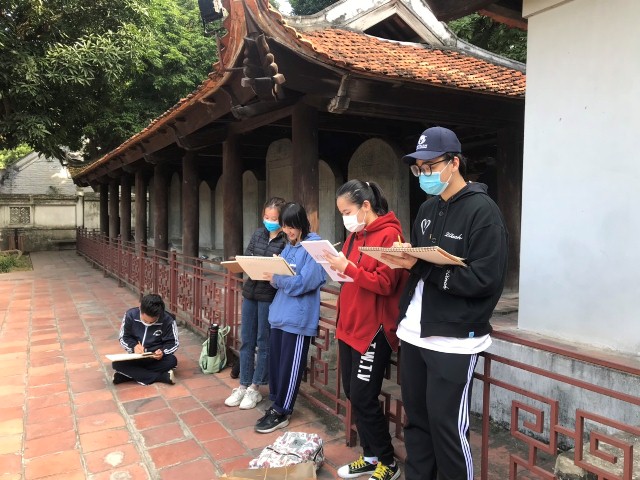 LH