AO DAI - A CULTURAL HERITAGE OF VIETNAM
On the evening of June 28, 2020, at the Special National Landmark Van Mieu - Quoc Tu Giam, Vietnam Women's Union and the Ministry of Culture, Sports and Tourism co-organized the program "Ao Dai - Cultural Heritage of Vietnam"
Ao Dai samples were introduced at Thien Quang well area, Van Mieu - Quoc Tu Giam landmark. This area contains cultural heritage objects such as Khue Van Cac - the symbol of Hanoi capital; 82 stele - the world documentary heritage; Thien Quang well (meaning well of sunlight). The square well symbolizes the earth, the circle door of Khue Van symbolizes the sky. The quintessence of heaven and earth is concentrated in the sacred cultural and educational center in the middle of Hanoi capital.
To define Ao Dai as Vietnam's cultural heritage, one must view the iconic costume through the the creations of designers who have been devoted to Ao Dai for many years. The Ao Dai is recognized and admired all over the world as a symbol of Vietnamese culture, values and world heritage.
Vietnam Women's Union
The program introduces 21 collections with more than 1,000 Ao Dai samples by 21 designers. Images and beauty of 21 Vietnamese cultural heritages recognized by UNESCO as World Cultural Heritage appeared on Ao Dai with many messages. They are: "Ha Long Bay" (Designer Nguyen Thuy); "Giong Festival in Phu Dong Temple and Soc Temple" (Designer Vu Tran Duc Hai); "Trang An – Cultural and Nutural Heritage" (designer Hung Viet); "The Worship of Hung Vuong" (Designer Minh Minh); " Dong Van Rock Plateau " (Designer Hoai Nguyen); " The Imperial Citadel of Thang Long " (Nhi Hoang Designer); "Ca Tru singing" (Designer Ha Duy); "The worship of mother goddesses" (Designer Tran Thien Khanh); "Xoan singing" (Designer Cong Huan); "Quan Ho Bac Ninh Folk Song" (Designer Trinh Bich Thuy); "Citadel of the Ho Dynasty" (Lan Huong Fashion Designer); "Dan Ca Vi Dam Nghe Tinh Folk Songs " (Thanh Thuy Designer); "Phong Nha - Ke Bang National Park" (Tran Thanh Man designer); "The Hue capital citadel " (Designer Phuong Thanh); " Hue royal court music " (Designer Ngoc Han); "Hoi An Ancient Town" (Designer Chula); "Bai Choi Folk Songs" (Designer Cao Minh Tien); "My Son Sanctuary" (Cao Duy Designer); " Cultural Space of Gong in the Central Highlands" (Trung Beret Designer); "Don Ca Tu Tu Nam Bo folk songs" (Fashion Designer Hue Thi); "Don Ca Tu Tu Nam Bo folk songs" (Designer Minh Hanh).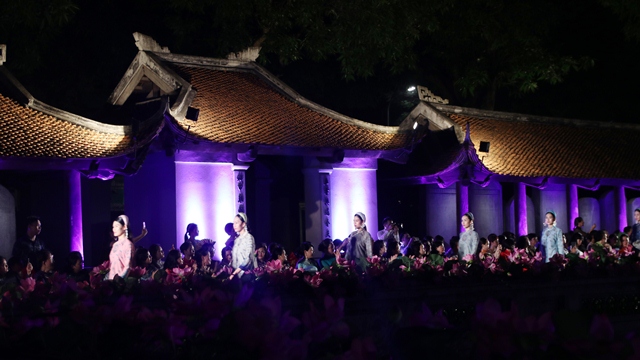 The program featured 60 professional models, 100 students of the Women's Academy, 50 children, Lady Ambassadors in Hanoi. VTV1's editors: Khanh Trang, Thu Ha and especially the participation of People's Artists: Thanh Tu, Thanh Loan, Lan Huong and People's Artist Tra Giang. Accompanying the program was traditional Vietnamese songs.