DEPUTY MINISTER OF FOREIGN AFFAIRS OF MONGOLIA PAID A VISIT TO VAN MIEU-QUOC TU GIAM
On August 30, 2019, Deputy Minister of Foreign Affairs of Mongolia, Mrs. Batmunkh Battsetseg, along with her husband and delegates paid a visit to The Special National Landmark, Van Mieu-Quoc Tu Giam.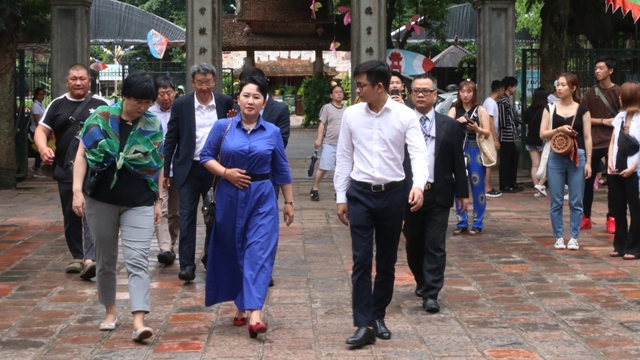 Receiving the Deputy Minister of Mongolia at the main gate
After taking a tour around the nearly 1000 years old historical site, Mrs. Battsetseg and the delegation highly appreciated the preservative treatments. Although the landmark has undergone many renovations, the valuable architectural works such as the Khue Van Pavilion, Dai Thanh Sanctuary, and the various statues and stone steles that were constructed in the style of the Le and Nguyen Dynasties have remained well preserved.


Mrs. Battsetseg visited the stone steles.

Among the objects, Mrs. Battsetseg was particularly interested in 82 stone steles – The World Documentary Heritage. As she learned, those steles that recorded the exams held between 1442 and1779 are the historical documents on Vietnam's cultural and educational history. Through ups and downs, they have been well-preserved today.
Translator: CVT