THE SEMINAR ON HOÀNG GIÁP NGUYỄN DUY ĐÔN, LIFE AND CAREER
On September 19, 2019, on the occasion of 340th Anniversary of the Birth of Đình nguyên-Hoàng Giáp Nguyễn Duy Đôn (1679-2019), a seminar on the "Life and career of Đình nguyên-Hoàng Giáp Nguyễn Duy Đôn took place at Front Building, The Special National Landmark-Van Mieu-Quoc Tu Giam (Đình nguyên: the best laureate at Royal examination; Hoàng giáp: the second rank doctor of Royal examination)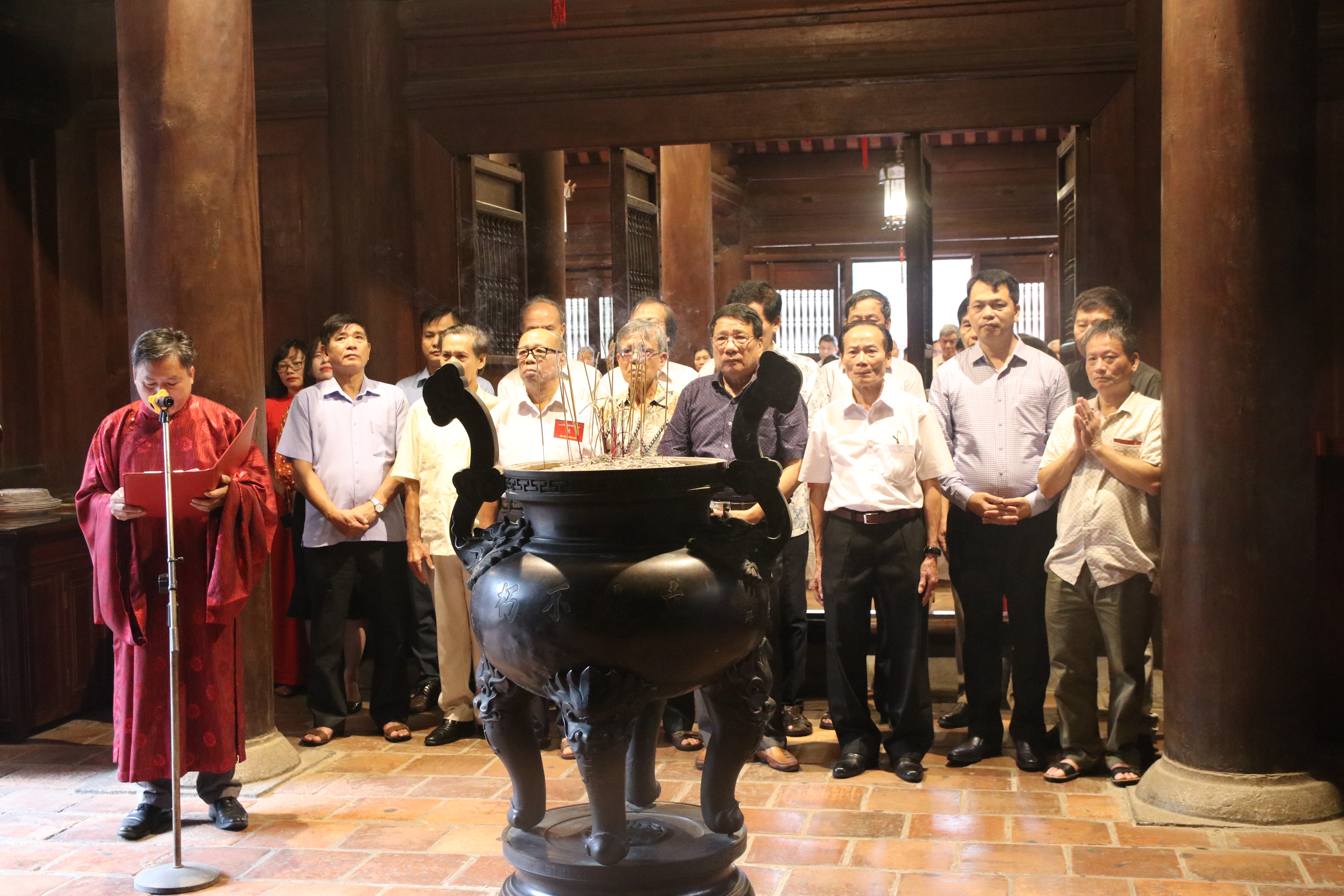 Scientists, researchers and representatives of Tay Nguyen family took part in a ceremony to commemorate Hoàng Giáp Nguyễn Duy Đôn
Through 15 reports, scientists, researchers and representatives of the Tay Nguyen family focused on discussing and evaluating the life, talents and contributions of Nguyễn Duy Đôn to his homeland and country.
Nguyễn Duy Đôn (1679 - 1741) a native of Cao Lãm commune, Sơn Minh district - Nowadays, Cao Lãm village, Cao Thanh commune, Ứng Hòa district, Hanoi. He was very smart and had a good memory. From an early age, he received education from famous teachers. At the age of 18, he passed the Four Rounds of Regional Examination in1696. In 1703, he passed the Three Rounds of National Examination. In 1710, he ranked first in an examination held by the Ministry of Interior, and then he was appointed as an Education Officer of the Tiên Hưng district. At the age of 34, he ranked second in the National Examination of 1712, and in the same year, he ranked first in Royal Examination (this examination did not have Trạng nguyên-the first-ranked Doctor of Royal examination), and then worked in an academy. The reports all affirmed that Nguyễn Duy Đôn was an honest and upright mandarin who made great contributions in the fields of politics, culture and education, and always thought of his homeland. Assoc. Prof. Dr. Nguyễn Đức Nhuệ said that "Nguyễn Duy Đôn 's legacy is very important not only to society of his period, but also to future generations, moreover he is a good example - a man who always loved his homeland and the country, That's what the following generations need to follow.
Assoc. Prof. Dr. Nguyễn Đức Nhuệ presented his report The seminar was of great significance, helping future generations to better understand his life, career, and his important contributions to the country and homeland. Moreover, the seminar also contributes to promoting and preserving the values ​​of cultural heritage that famous Vietnamese figures tried to encourage during the long history of Vietnam.
Translator: CVT