MEMORY OF THE ESTABLISHMENT OF THE CENTER FOR SCIENTIFIC AND CULTURAL ACTIVITY VAN MIEU – QUOC TU GIAM (25/04/1988 – 25/04/2019)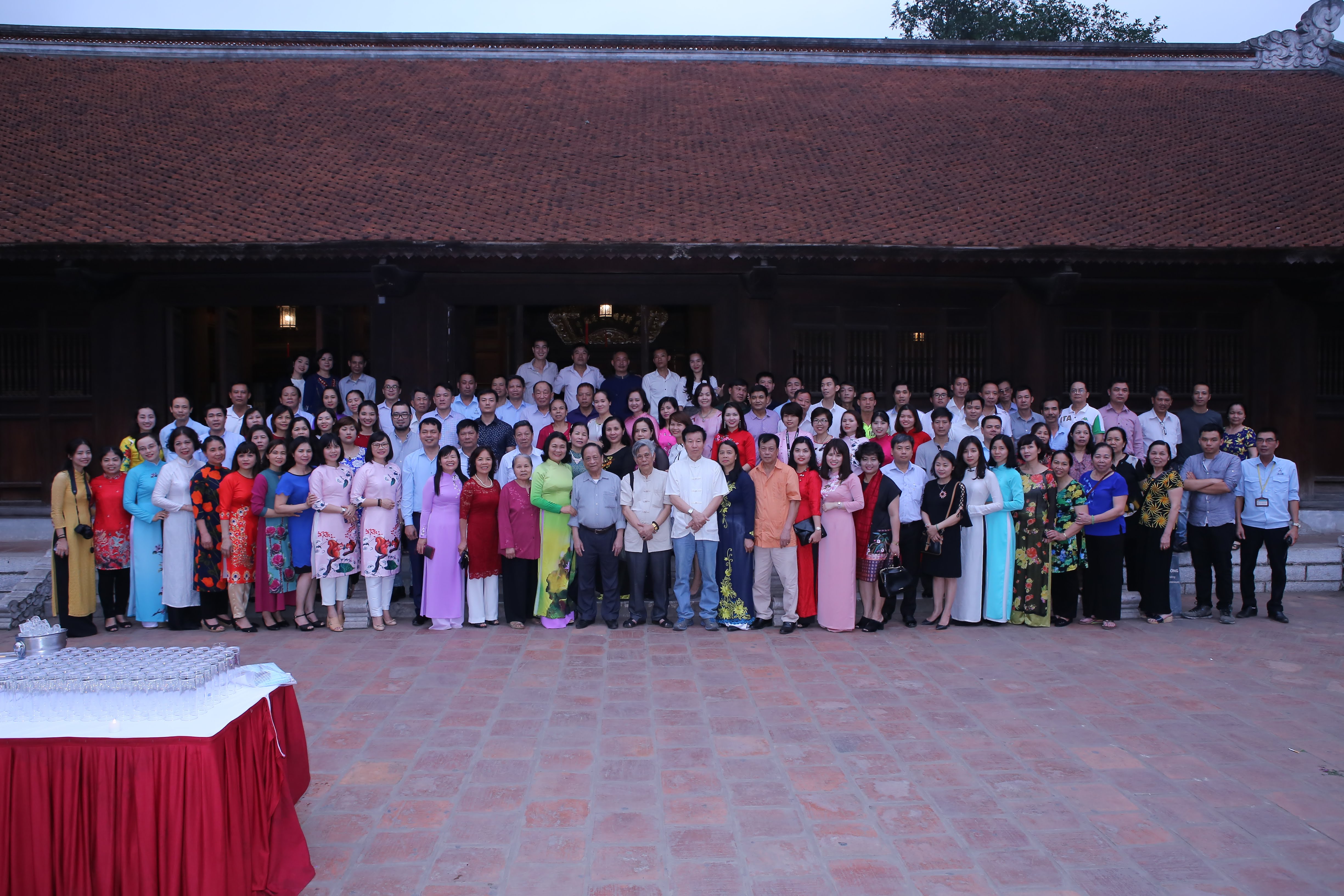 The Special National Landmark Van Mieu – Quoc Tu Giam is one of the most unique and oldest cultural historical sites in Hanoi. The landmark, with ancient architectural construction, was used to train thousands of doctoral laureates for the nation. Nowadays, Van Mieu is used to conserve and highlight the nation's traditions: fondness of learning, sense of duty and revering teachers and valuing education for generations to appreciate.
Through ups and downs of its 1000 – year – history till the period of the 1980s, the landmark was downgraded seriously: roofs were leaky, walls were slant, brick grounds were broken, the grass lawn was unkept and hid pathways. Mr. Nguyen Van Linh – General Secretary of Communist Party of Vietnam paid a vistit Van Mieu – Quoc Tu Giam and requested the People'community of Hanoi to repair and embellish the landmark and to organize activities which were appropriate to Van Mieu.
To be fully aware of the direction of the Communist Party and Government, on 25th, April, 1988, People' Committee of Hanoi issued an official document establishing a Center for Scientific and Cultural Activity Van Mieu – Quoc Tu Giam. Ms. Tran Thi Tam Dan, –former Vice chairman of People' Committee of Hanoi, signed the official document stating: "People' Committee of Hanoi decided to establish a center for scientific, cultural and educational activities instead of organization at Van Mieu – Quoc Tu Giam. At that time, because the landmark was large, a lot was invested to develop and preserve it. We must considerhow best to create favorable conditions for scientific, cultural and educational acitivities."
The Center was established to manage, protect, preserve, and bring into play the value of Van Mieu – Quoc Tu Giam (inside sector). Mr. Nguyen Vinh Cat, former Director of Department of Culture and Information in Hanoi and – former Director of the Center for Scientifc and Cultural Activity Van Mieu – Quoc Tu Giam shared : " There's nothing like cultural activities to emphasize the value of the landmark. However, we should not overlook scientific activities as well. Afterall, this was was the first university.
In the early years, the center was used as a department of preservation belonging to Department of Culture and Infomation in Hanoi, managed by the director of the department directly. The plan of activities focused on preservation, tourism and propaganda.
The function, mission and system of management were completed day by day. In 2000, Giam park became part of the landmark officially, and the Department of Preservation was established. In 2005, the system of management and departments were divided into three distinct departments: Department of Administration, Department of Tourism, and Department of Preservation. In 2006, Van Lake became part ofVan Mieu. The space of the landmark was enlarged significantly. In December 2011, in order to speed up scientific activities, the Department of Research and Collection was founded.
Today, four departments play a role in themanagement, preservation, research and promotion ofthe Special National Landmark Van Mieu – Quoc Tu Giam by offeringscientific and cultural activities about Van Mieu – Quoc Tu Giam, for the public.
The Center, which was established over 30 years ago, has grown from 8 staffs to over 90 staffs today. The previous generation of staffs helped the next generation to share experience, knowledge and support each other to fulfill the mission of the Center.
The results: Van Mieu – Quoc Tu Giam is one of the most well – known places of culture and tourism inthe nation. There have been over 2 million tourists, over 500 schools and countless special groups includingdiplomatic guests of the Communist Party and Government who have visited the landmark since 1998.
Mr. Dang Van Bai (former director of Department of Cultural Heritage, Vice Chairman of Vietnam Cultural Heritage and member of World Heritage Council shared that: "When we founded the Center for Scientific and Cultural Activities Van Mieu – Quoc Tu Giam, the landmark was changed and revived."
Writer: Hoa Phuong
Translator: BBP