---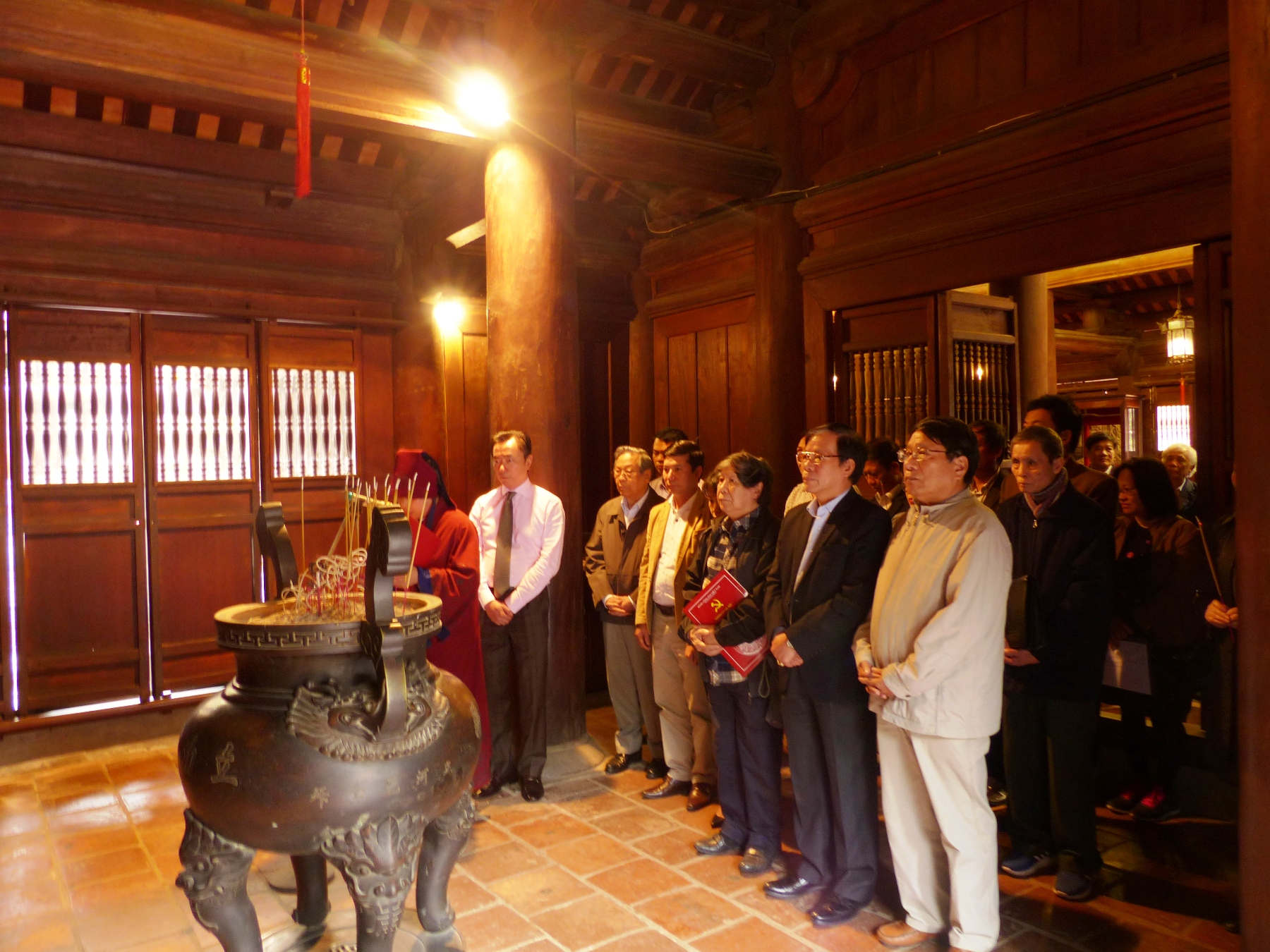 (Attendants of the seminar in the ceremony to commemorate Head Master Chu Van An)
1.Chu Van An (1292 – 1370) was a contemporary of Truong Han Sieu (1274-1354), Doan Nhu Hai (1280-1335), Nguyen Trung Ngan (1289-1370), who were high-ranking mandarins under the Tran dynasty.
King Tran Minh Tong (1300-1314-1357) had eyes for Chu Van An and appointed him as a teacher to train royal princes. Chu Van An improved his personal life and career by himself instead of taking the opportunities in history.
2. Chu Van An's father was a common man from Northern Vietnam. He and his wife had a simple wedding in his wife's hometown.
Chu Van An did not come from a good lineage, although this did not hold him back with his successful career.
3. Chu Van An and his family lived in Thanh Liet village – his mother's hometown. Customary to village rules, Chu Van An and his father were not recognized as natives of the village.
Researchers thought for a long time that there was a matter with the relationship between Chu Van An and the place he lived then. After 700 years, the residents of Thanh Liet village honoured Chu Van An as an outstanding man. When Chu Van An decided to found his own school, he selected another place instead of Thanh Liet village.
During the reign of Tran Du Tong, the King overindulged, causing the ruin of the court. Chu Van An submitted a petition to the King requesting the beheading of seven dishonest mandarins, but the King refused. Chu Van An was so upset by this that he moved to the mountainous area of Phuong Hoang in Chi Linh District, Hai Duong province to open a school and lived in this area until he died. It was thought that the place Chu Van An lived was not as important as the things he achieved.
4. In fact, Chu Van An spent his life studying and improving himself. He epitomized the dutiful man.
Chu Van An successfully brought Confucianism to Vietnam. He summarized four Confucianism books (Dai hoc, Trung dung, Luan Ngu, Manh Tu) to create a schoolbook for himself. Chu Van An's book was famous for illustrating ways to be a great man for contemporary students.
Chu Van An tried to self – improve to become an exemplary, everlasting educator and spread the system of education to the nation.
Chu Van An is engraved in Vietnamese people's memories as a self – made man who madegreat contributions to train the talents of the nation and develop a traditional education system for Vietnam.
Author: Historian Le Van Lan
The text extracted from "Chu Van An – his life and career" seminar
Translator: Bich Phuong