THE FINAL ROUND OF LITTLE "TRANG NGUYEN" AND FINE HANDWRITING CONTEST AT VAN MIEU – QUOC TU GIAM
There were 152 competitors from different places who joined "little Trang Nguyen" contest and 119 competitors those who took part in fine handwriting contest.
The competitors had challenges given in elimination for few months. 271 competitors were selected throughout the country to join the final round. Those parts of the contest were knowledge of subjects, conduct test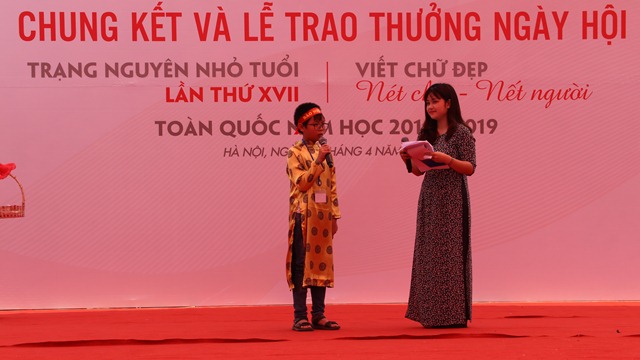 The conduct of contest
Đặc biệt, với mong muốn Ngày hội '"Trạng Nguyên nhỏ tuổi" và cuộc thi viết chữ đẹp "Nét chữ - Nết người" trở thành sự kiện văn hóa – giáo dục ấn tượng cho học sinh tiểu học; Ngày hội đã giới thiệu đến các thí sinh loại hình dân ca nổi tiếng của đất tổ Hùng Vương – Di sản văn hóa phi vật thể đại diện cho nhân loại: Hát xoan Phú Thọ.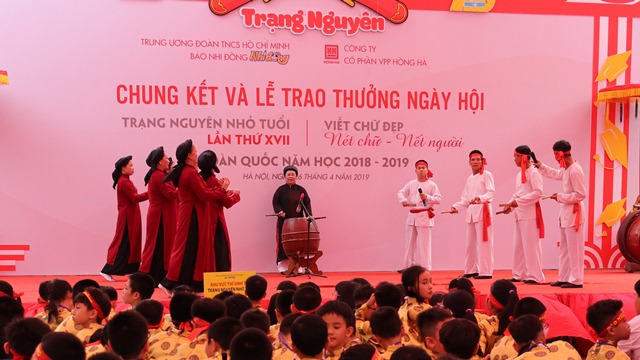 Music performance
This contest also showed the students Hat Xoan - well – known category of folk song originated in Phu Tho which recoginized Intangible Cultural Heritage of Human.
The students receiving rewards
In order to encourage candidates, the organization gave four Trang Nguyen reward of Maths for four students from different grades. In the contest of this year, there were 12 Trang Nguyen honored. There were near 100 "Bang Nhan", "Tham Hoa" and "Hoang giap" rewards for excellent candidates.
This contest brought the high value of tradition of fondness of study to students, became beauty of culture and raised teaching and studying movements at schools
BP