THE NEW WAY TO PROVE VALUE OF THE STONE STELAE
Transforming precious information of 82 stone stelae at Van Mieu to students is a meaningful and useful activity provided bythe Center for Scientific and Cultural Activity Van Mieu - Quoc Tu Giam. The students gain a deeper understanding of educational and cultural traditions of a nation from these new methods. It is also a new way to prove value of world documentary heritage.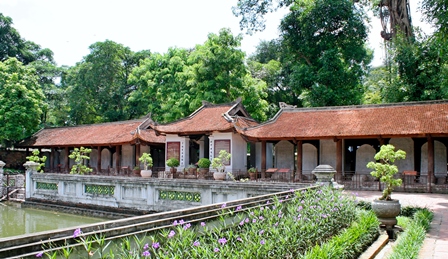 A part of stone stelae section situated on the west side
Passing through Khue Van Cac, situated on the both sides of Thien Quang well are 82 stone still steadily recording the names and homelands of successful philosophers after examinations. They are invaluable documents which highlights a history of education in Vietnam and tradition of respecting talents of a nation. In 1484, Kinh Le Thanh Tong ordered stone stelae to be erected. There were 82 stone stelae erected over 300 years which show important information of 82 exams from 1484 to 1779 under the reign of Le dynasty and Mac dynasty. Each stone stele is a page of history of education as well as precious work of art, calligraphy and architecture. In 2011, 82 stone stelae were registered as the World Documentary Heritage by UNESCO.
During the years, Van Mieu - Quoc Tu Giam paid a special attention to improve ways to share the value of 82 stone stelae. Cultural heritage education and activities are the most important for students whom from high schools.
In order to raise a effect of education, some cultural heritage education activities with new approach were underway. Van Mieu coordinated with schools and teachers to construct educational programs. Students visit Van Mieu with their class or small group instead of big groups from school. Students could both enjoy sightseeing and understand a value of the landmark as well as a connection between history and present day.
"Discover stone stelae" theme was constructed in order to provide an opportunity to approach closely and discover deeply the stone stelae for students. This activity encourages students to increase their awareness and desire to preserve precious heritage of a nation. Students gain an understanding of history of education as well as the value of 82 stone stelae. The students work together, in team building exercises during this activity. Through hands on experience, the students cultivate knowledge to protect environment and preserve cultural heritage.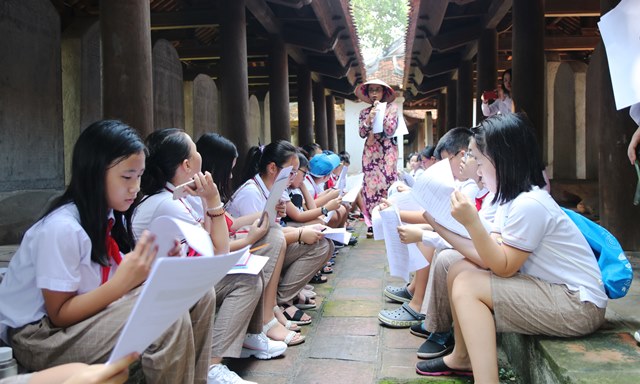 The students and guide gathering together to share opinions about contents of investigation
The students listen to information given by a guide and write down notes. A leader assigns tasks for every member. Students receive suggestions and start investigating within 45 minutes. Then they gather together to share snd discuss their opinions about the content of investigation. The students also show their proposal to preserve stone stelae. They can draw pictures, compose a play, tell a story to the classuntil the activity of discovery ends.
"Discover stone stelae" theme attracted many students who joined this activity. This showed us the new way to preserve the value of 82 stone stelae was effective and gained the first goal. In the future, themes of cultural heritage education with various contents will be available tosuit all ages.
Translator: BBP