Start in cognitive innovation
Over seven years ago, recognizing the significance of cultural heritage education activities at the landmark, the center participated in an UNESCO project which promotes cultural heritage education for students in Hanoi schools. Based on this experience, the Center developed a cultural educational program to connect with the learning and teaching of history and culture in primary, secondary and upper secondary schools in Hanoi. This program was approved by the Department of Culture and Sports in 2015. From 2016 to 2017, the Center piloted the cultural education program resulting in positive feedback.
The Center has cooperated with the Center for Cultural Heritage Research and Promotion (under the Cultural Heritage Association of Vietnam) to make an assessment of cultural heritage education -at Van Mieu. To best answer the question "How can the Center effectively connect Van Mieu - Quoc Tu Giam heritage with schools?", the Center developed a comprehensive survey and report on cultural heritage education activities at Van Mieu. The report reviewed guided tours, organized contests, and promotional programs for exhibitions. The report outlined a strategic direction for cultural heritage education introducing new concepts, new criteria and new methods. According to this vision, Van Mieu - Quoc Tu Giam has continuously improved the quality and variety of activities over the past two years
From successful heritage education experiments
Van Mieu is an invaluable treasure that dates back to over 1000 years. The landmark is home to 82 stelae which were recognized as a World Documentary Heritage in 2011 by UNESCO. From 1484 to 1780, stelae were erected listing the names and birthplaces of 1,307 Ph.Ds from 82 examinations. In addition, the precious value of architecture, cultural and intangible items of Van Mieu cannot be compared to any other landmark, therefore the landmark has significant intrinsic value to Vietnam.
To best promote cultural values and norms, the Center's programs focus on helping students actively explore the history and significance of the landmark. Teachers and the Center's staff also provide the best support for students to learn from cultural heritage education.
Until now, Van Mieu - Quoc Tu Giam has implemented dozens of educational programs for elementary and middle school students. Many of these programs have practical applications such as: ancient classrooms; "Manh Ho Ha Son" painting; Khue Van Cac; Study and examination; Ancient book; Steles of doctors; and Environment and landscape. Each program is a meaningful and lively lesson about the heritage of Van Mieu. A program always consists of three stages: learn about the monument in the classroom (pre-visit), visit and explore the monument and lessons learned after visiting the monument (post visit). In the second stage, the Van Mieu staff guide students and help them discover this monument.
To achieve the goal of sustainable development
The monument had been witness to the development of Vietnam over many periods. Due to historical events, Van Mieu - Quoc Tu Giam was almost abandoned and partially destroyed. Recently, Van Mieu - Quoc Tu Giam has been protected as an important national asset. Many invaluable ancient parts have been restored, preserved and revived. Research of Van Mieu - Quoc Tu Giam has proved to be invaluable in the protection of the landmark and the promotion of sustainable development and cultural heritage education.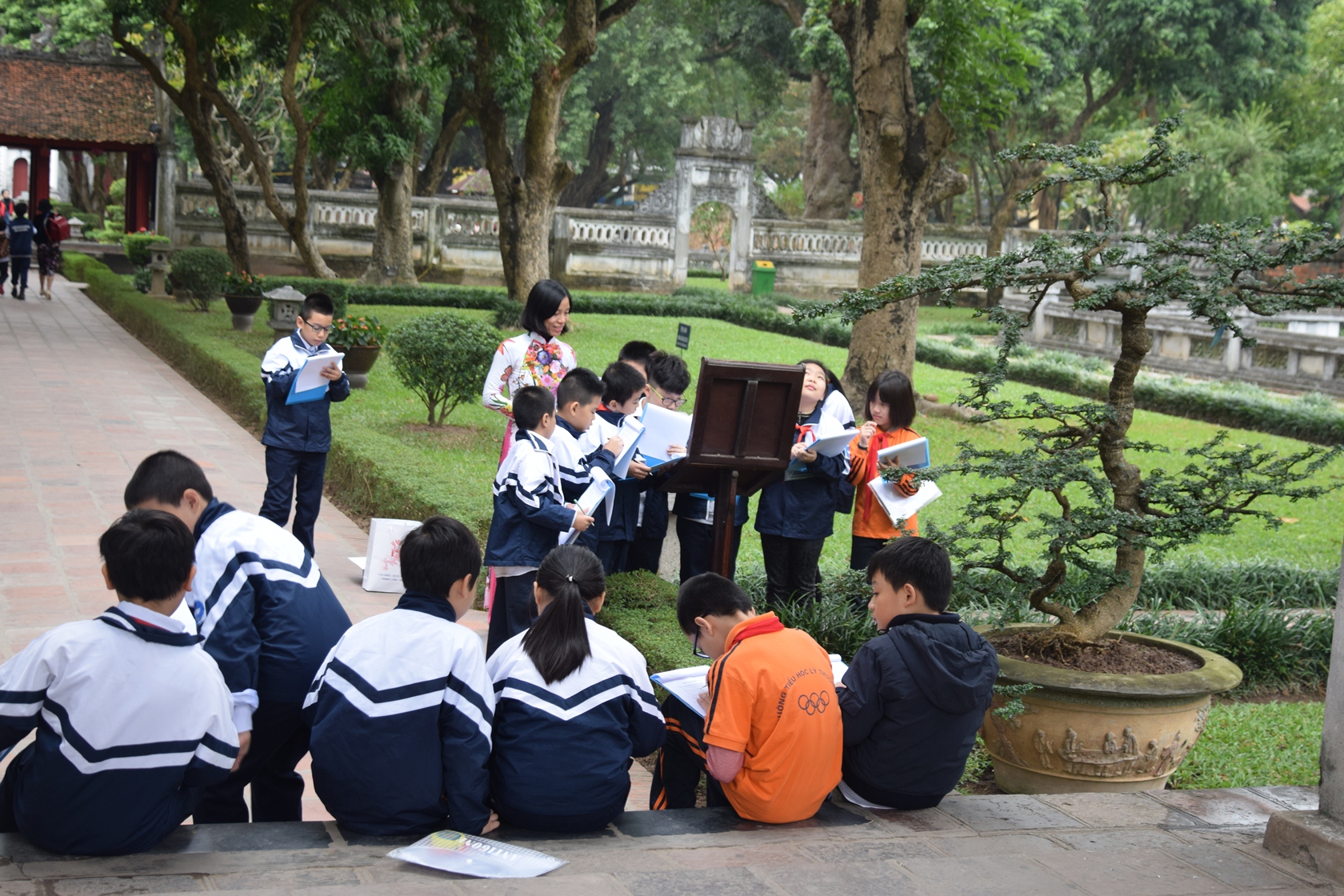 (Photo: The students are participating in a heritage education activity)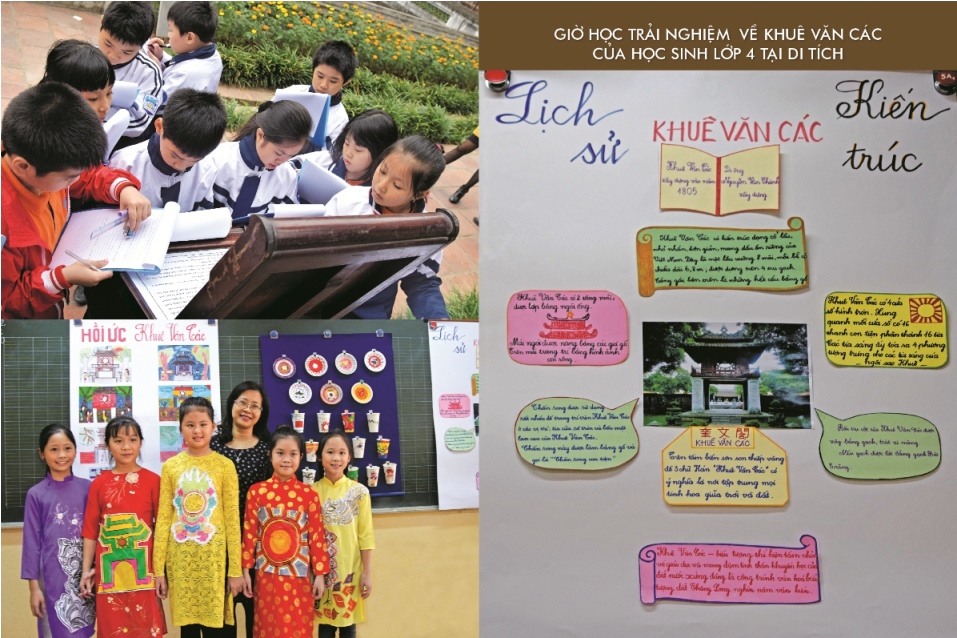 (Photo: The finished – products of the students after participating in heritage education activity of Khue Van Cac subject)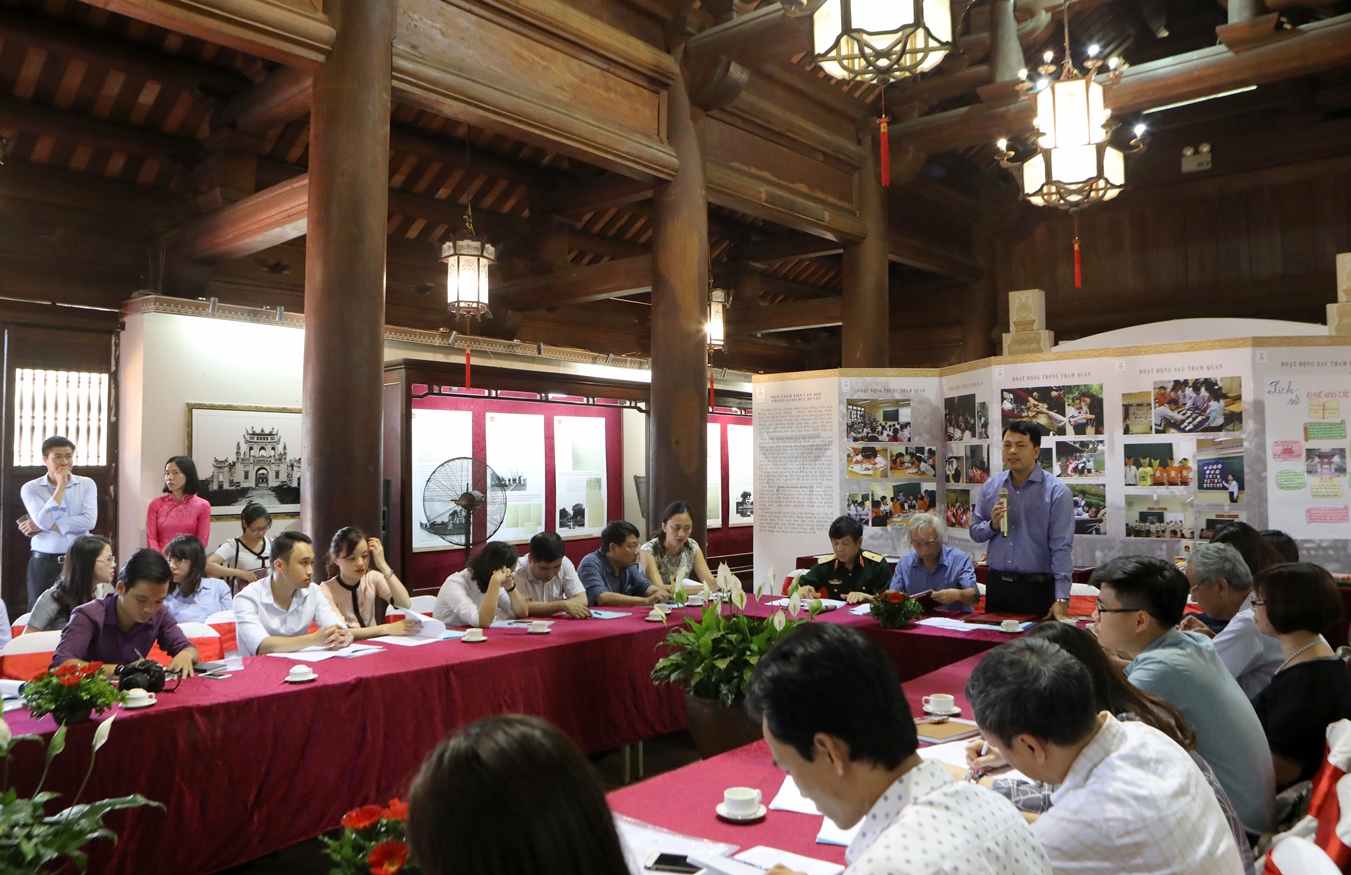 (Photo: "The new heritage education approach in 2017"seminar)
Writer: PhD. Le Thi Minh Ly – Director of the Center for Cultural Heritage Research and Promotion