So far, the applications of scientific and technological achievements to research and to the collection of documents and objects have produced significant results in the conservation and promotion of heritage values.
For approximately 1000 years of existence, nowadays, Van Mieu-Quoc Tu Giam is an ancient Relic of great value in terms of history, culture and science. Many of its objects that have features of different dynasties have been preserved till now. Particularly, the 82 stone steles are unique and hold tremendous value in many aspects.
Over the past 30 years, as an administrative unit of the Landmark Van Mieu-Quoc Tu Giam, The Center for Scientific and Cultural Activities has always considered it essential to carry out scientific research, which forms the basis for other activities in the Landmark. That explains why the Center has promptly conducted a great number of researches such as "Way to immortalize Vietnamese famous men of Van Mieu-Quoc Tu Giam in modern time"; "Van Mieu-Quoc Tu Giam and Confucian education system of Vietnam"…The success of the previous researches makes it possible for the others to be carried out.
In the field of scientific research, the Center has always attached special importance to documents and archives. Thus, a number of documents have been collected and examined. Every year, the Center conducts collecting activities and surveys in historical Relics or Temples throughout the nation. Up to now, the Center has collected more than 600 stele rubbings, 500 pictures of nomination certificates, 6000 pictures of relics, 25 family records, more than 2000 Chinese and Sino-Vietnamese pages, 2000 pictures of parallel sentences and wood panels. Besides, the Center has translated hundreds of epitaphs from Chinese or Sino-Chinese into Vietnamese, and set up more than 200 files on Confucian relics in Vietnam. All of the data make it easier for scientific workshops on conservation or promotion of the significance of Van Mieu-Quoc Tu Giam to be carried out.
Along with collecting objects, the Center has also highlighted the importance of scientific researches. In fact, the outcomes of the researches were made public through discussions, workshops, exhibitions and cultural publications. Up to present, the Center has organized 4 conferences for the Administrative units of Confucian relics, tens of conferences on Stone Steles, Quoc Tu Giam School, localities that are famous for brilliant scholars, famous Confucian scholars(Principal or Deputy Principal of Quoc Tu Giam, Doctors).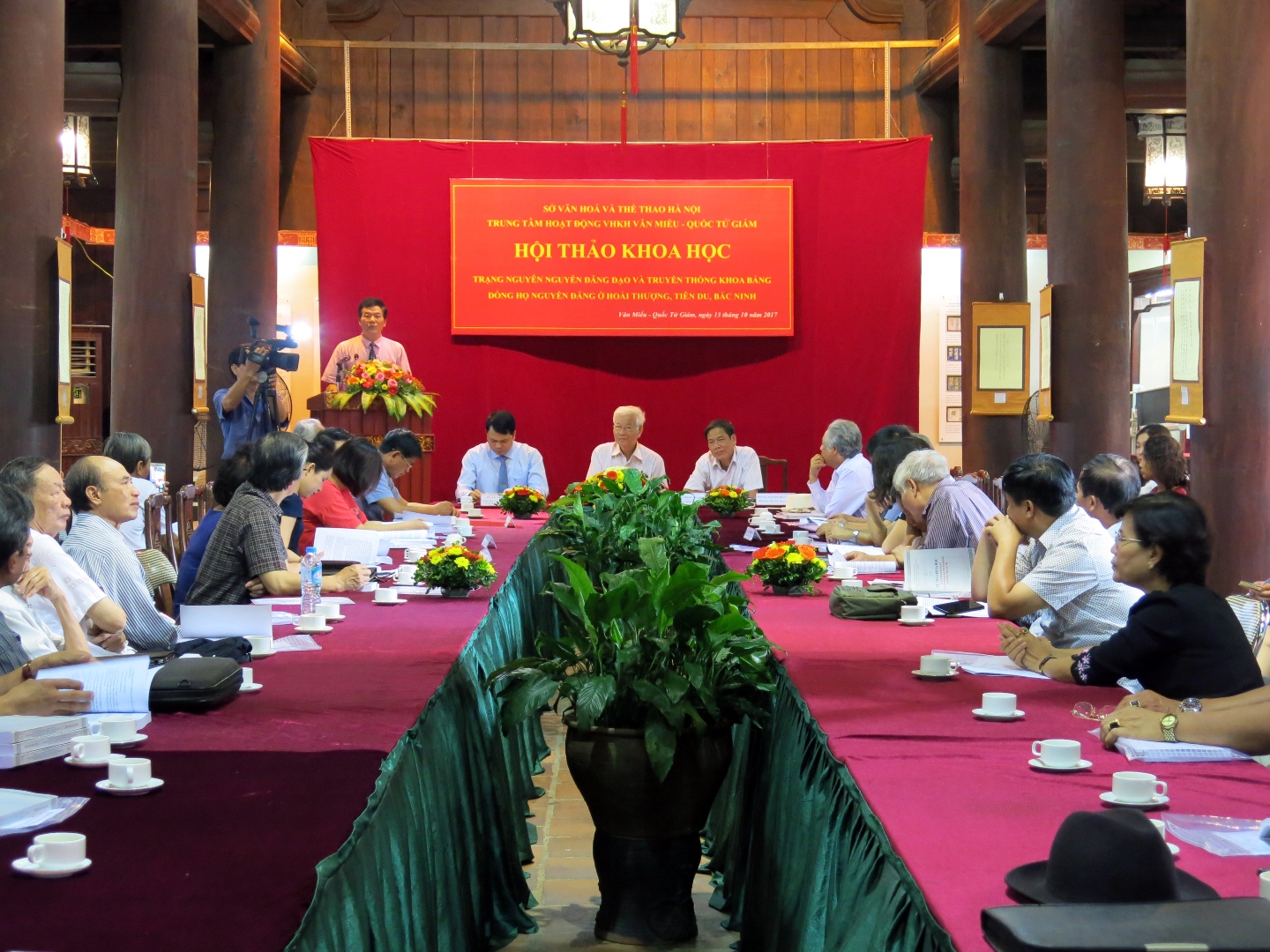 One of the workshops​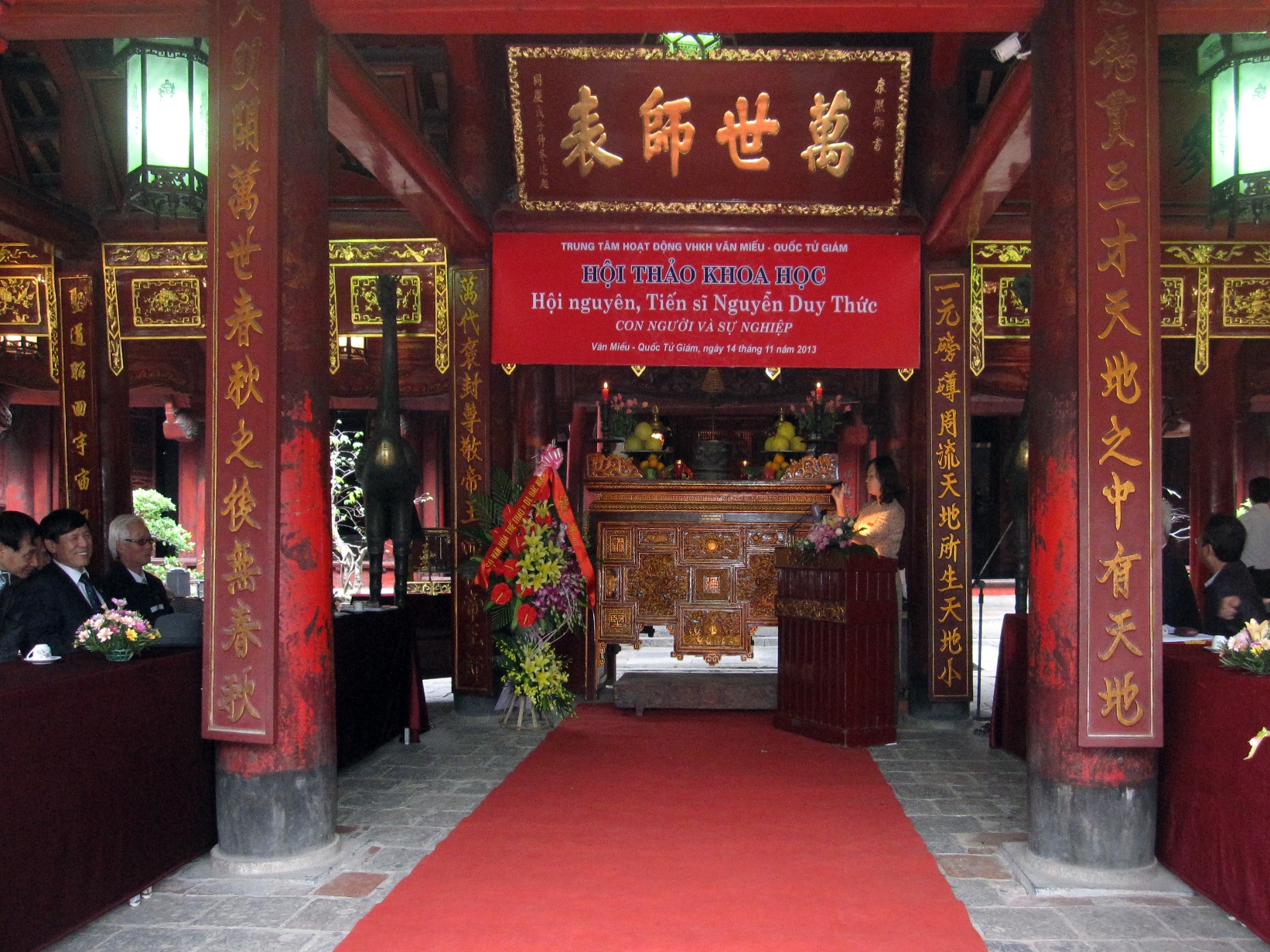 One of the workshops
Particularly, the application of information technology has produced significant outcomes. 18.919 objects including documentations and photos have been digitalized, which makes it easier for people to look up by using search software or administration software. Motifs on architectural structures or Doctor Stetes have been also sketched by using graphic software.
For many years, the Center has applied scientific and technological achievements to researches, collection and many other activities. This has been increasingly making a big different to the conservation and promotion of heritage values of the Landmark.
Writer: Nguyen Lien Huong
Translator: Chuong Van