Van Mieu – Quoc Tu Giam was the most respectable and largest examination center in Vietnam, where great ceremonies and literature festivals attracted thousands of scholars throughout the country. Nowadays, it is recognized as a special national relic in Hanoi where ancient architectural styles of many dynasties has been preserved. Located in an area over 54.000m2, Van Mieu – Quoc Tu Giam is used to organize cultural, scientific and educational activities and tourism services.
After the establishment of the Center of Scientific and Cultural Activities, the directors have effectively managed and preserved the site; keeping with ancient architecture and green spaces. Many domestic and foreign tourists and diplomatic guests pay their respects with a visit to Van Mieu – Quoc Tu Giam. Visitors are impressed with the cultural activities the relic offers and how the relic represents the great men of the nation and innate admiration of learning of Vietnamese people.
Van Mieu – Quoc Tu Giam organizes events including incense offerings, and heritage activities for school aged children, college students, special groups, families, and private companies in order to impart the traditional fondness of studying, respect of teachers and great men cherished at this site,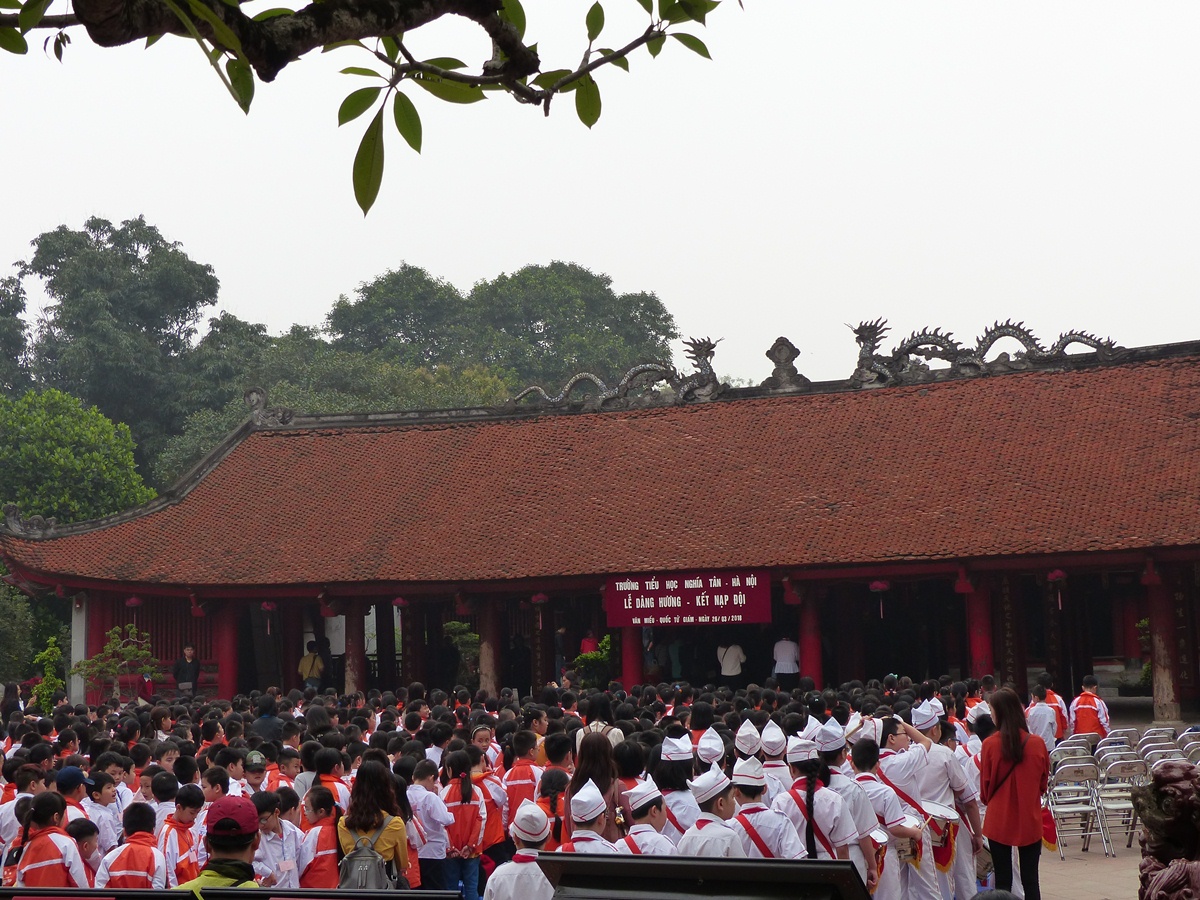 (Photo: Incense offerings and induction ceremony of members of Ho Chi Minh Pioneers' organization of Nhat Tan Primary School at Van Mieu – Quoc Tu Giam 2018)
(Photo: The opening of exhibition in Thai Hoc courtyard)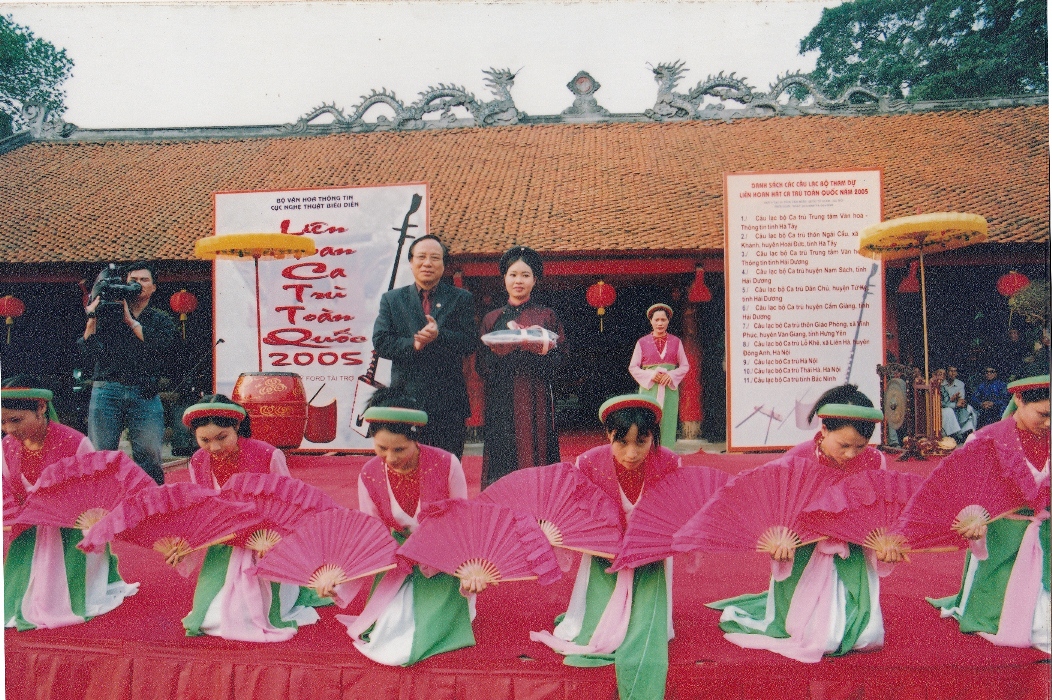 (Photo: Ca Tru Festival 2015)
Van Mieu – Quoc Tu Giam collaborates with institutions of tourism, culture, and education to host many meaningful events throughout the year. In addition, through collaboration with other institutions, employees have opportunities to continue their education and improve their professional experiences. For example, employees took advantage of taking English lessons from Alan and Judy. Alan and Judy first became acquainted with Van Mieu as tourists from Australia and returned annually. Seeing a need to enhance the English skills of employees, they offered lessons over a period of three months. As a result, employees are able to better communicate with tourists and provide exciting cultural activities for visitors of Van Mieu – Quoc Tu Giam.
Diplomatic guests from around the world visit Van Mieu – Quoc Tu Giam during official visits to Hanoi. High level visitors leave written remarks in the guest book. The Minister of Culture from Bangladesh stated he has a great admiration and respect toward Vietnamese fondness for learning and the practices of honouring talents, as well as, the 82 stone stelae.
In recent years, there were several major improvements at Van Mieu- Quoc Tu Giam including:
Renovation of public toilets to better meet the needs of visitors with disabilities,
Organization Calligraphy festival,
Exhibition "Former Vietnamese education and examination through documentary heritage of the world,
Mid – atutumn festival,
Introduction an automatic eight language guiding system,
Reconstruction and repositioning of the Information & Ticket booth,
Design of new logo with the Australian Embassy and installation of a system of guide signs which were sponsored by the Australian Embassy,
Development of cultural educational programs to connect with the learning and teaching of history and culture in primary, secondary and upper secondary schools in Hanoi.
(Photo: Students participating in educational activities)
Since 2017, the Center of Scientific and Cultural Activities Van Mieu – Quoc Tu Giam has relied less on financing from the People's Committee Hanoi and Department of Tourism and Sport and more on raising its own revenue. The goal of the center is to preserve the relic, promote cultural heritage and organize traditional educational activities. In addition, the Center continues to seek opportunities to collaborate with other institutions to offset the costs of maintaining the relic.
It is important to illustrate the nation's educational traditions and fondness of studying and share with foreign tourists the value of history and culture of Vietnam. This can be accomplished through various activities as described above. The mixture of traditional and modern activities is the key to preserve 1000 years of culture and history of Hanoi now and forever.
Writer: Do Thi Tam
Translator: Bich Phuong