VAN MIEU – QUOC TU GIAM FROM THE RUINS TO THE SPECIAL NATIONAL LANDMARK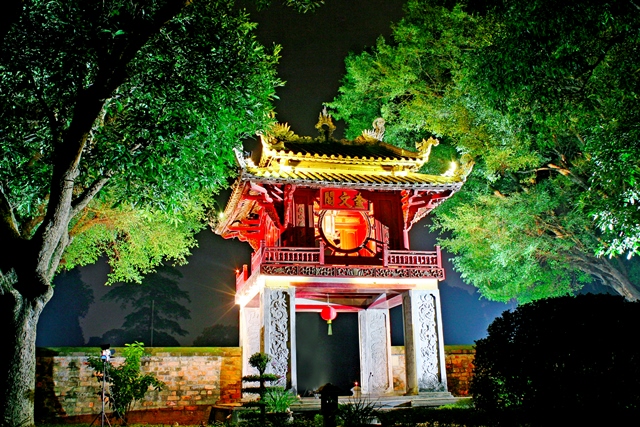 Van Mieu – Quoc Tu Giam was recognized as a Special National Landmark seven years ago. The progress in the landmark's positive change was difficult; Van Mieu – Quoc Tu Giam was totally revived from the ruins. Vietnam Communist Party, Government, the faculities, researchers and the lovers of culture cared. They invested, repaired and organized activities to bring into play value of the landmark, methodical preservation and restoration among them.
The period (1990 – 2000) was the first stage in restoration, beginning with a seminar (1990) which outlined the restoration project at the Center for Scientific and Cultural Activity Van Mieu – Quoc Tu Giam. A series of restoration projects were in progress from 1990-1997 including: restoration of Dai Thanh Sanctuary, walls, sewage system, green trees, grasses, toilets; dredge Van lake, small lakes at the Nhap Dao courtyard; set up lighting system; repaint the horizontal boards, doors. From 1997 – 2000: research and excavatation, restoration of Thai Hoc courtyard to its former use as traditional university. From 2000 – 2019: resist downgrade situation, restoration of Giam park and stone steale house, repair the walls surrounding Van lake, Dai Thanh Sanctuary, Thien Quang well, and restoration of Kim Chau island, Khue Van Cac, Dai Thanh Sanctuary.
. After thoughtful restoration projects, the results are extraordinary. The eight new stone steale houses and the improvements of Thai Hoc courtyard are just two examples of important achievements in restoration at Van Mieu – Quoc Tu Giam.
In addition, restoration goals included improvement to guest services, infrastructure, cultural events (exhibitions, competitions and seminars) and experiences (making incense offerings) for the many domestic, foreign, diplomatic and student visitors who are welcomed each year. In order to register the 82 stone steale as World Documentary Heritage in 2011, Van Mieu – Quoc Tu Guam had to qualify as a Special National Landmark and fulfill the restoration projects.
When the restoration Kim Chau island project is completed, Phuong Dinh house and stone arch bridge will be combinaed together in an ancient space providing rich and unique cultural, educational, scientific, and touring activities at Van Mieu – Quoc Tu Giam.
Writer: Hoa Phuong
Translator: Bich Phuong